We love hosting birthday parties and celebrations in our escape rooms. Whether you are 7 or 100, we can host your special celebrations in one or more of our three amazing escape rooms.  Or, we can bring the escape room game to you, at your house, hotel or venue of choice.
Book an escape room birthday party with us & this is what is included
Party invitation
Flexibility to reserve a game whilst you check the availability of guests
A game tailored to the ages/abilities of the players
A dedicated Games Master who will run the game either remotely, or from the room, or a mix of both
Sweets for everyone and a larger bag/box for the birthday child
A photo opportunity at the end of the game wearing themed headwear
A free adult place
The option to hire a room and order food before or after the game
Car parking immediately outside of Windsor Leisure Centre
How many children can you have for an escape room birthday party?
We love entertaining children at Escape in 60 and our escape room birthday parties are guaranteed to get children talking about them at school the next day.
The Curse of the Lost Chamber is ideal for children from ages 7 to 14, and usually for 4 to 10 players.  This game is a more physical game and perfect for new escapees.  It is very visual, interactive and lots of fun.   
Escape the Castle is suitable for children ages 11 plus and from 4 - 8 players.  This rooms has more mental puzzles but also some physical ones too.   It is lots of fun with plenty of surprises.  
We will need a responsible adult in the escape room with children under 16, but do not charge for the accompanying adult.   
We can tailor the clues in the room where necessary to make it age appropriate.  Our Games Master will fully brief the children and will run the game remotely, sending clues into the room via a TV screen.  Depending upon number of children, ages and ability, our Games Master may well stay in the room with the children and guide them through it.
And, if you have over 10 players then why not split your teams up and play across The Curse of the Lost Chamber and Escape the Castle?     We can even play older children in The Amber Room and again adapt the clues to make them age appropriate.
Birthday gift/photo opportunity
We include a small bag of sweets for all children attending an escape room birthday party, and a larger bag/box of sweets for the birthday child.

At the end of each birthday party game there will be a fun photo opportunity with the children wearing themed headwear.  For the Curse there is Egyptian headwear to wear and a very old skeleton of Magsood, The Child Emperor to hold.  For the Castle there are crowns to wear and swords to hold.

Speak to either Kathryn or Mike to discuss your individual requirements on 01753 396322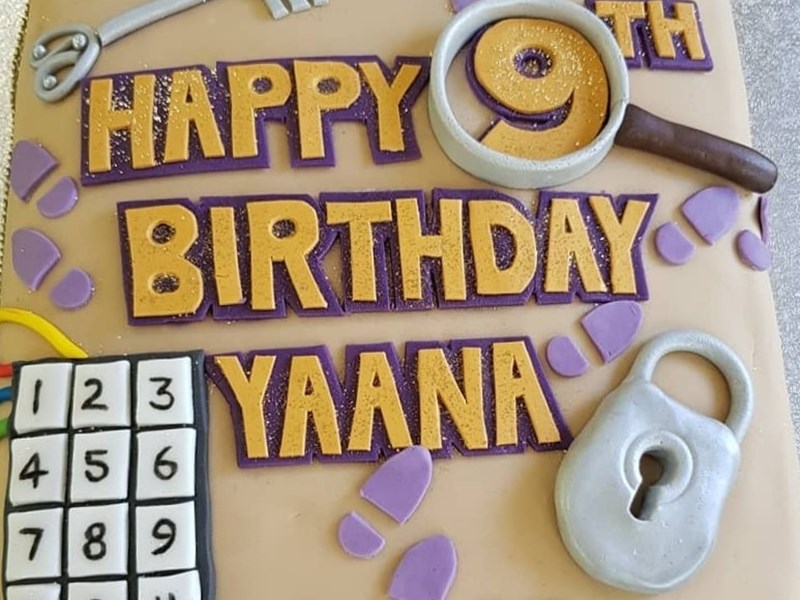 Party Food
Windsor Leisure Centre can offer room hire (subject to availability) for you to feed your party guests either before or after their escape room experience.  Room hire is charged at £41 per hour.  There is a special birthday party food menu available from The Avenue Café.  You can either: order hot or cold food including pizzas; bring your own food; or supplement the food provided by The Avenue Cafe.   The choice is yours.
We will help you book a room at Windsor Leisure Centre and put you in touch with the Catering Supervisor to sort out food options.
Give Kathryn or Mike a call on 01753 396322 to discuss your birthday party requirements.
Invitations
We have some great birthday party invitations available for you to download and print yourself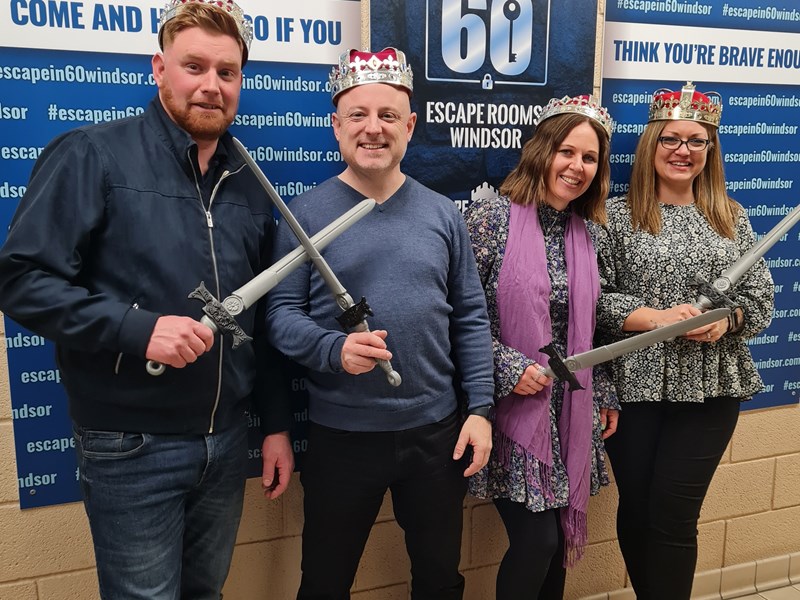 Adult birthday celebrations
Escape rooms are a perfect location for celebrating a birthday. And the great thing about escape rooms is that you can play them with several generations. For adults or mixed groups, we would suggest that up to six players in our rooms is a good number, but of course, if you would like to include more players then you can.
For larger parties, why not split your team up and play across more than one of our escape rooms? We will do our best to play the games simultaneously, wherever possible.
If you have a larger party then you may consider playing ESPIONAGE, our mobile escape room game, which we can bring to you, at your home, hotel or venue of your choice.  This game is suitable for 20 to 200 players and can be played anywhere as long as there are tables and chairs for everyone to sit at.   You will all play the same game and the same time. 
We will include a box of chocolates for those celebrating their birthday.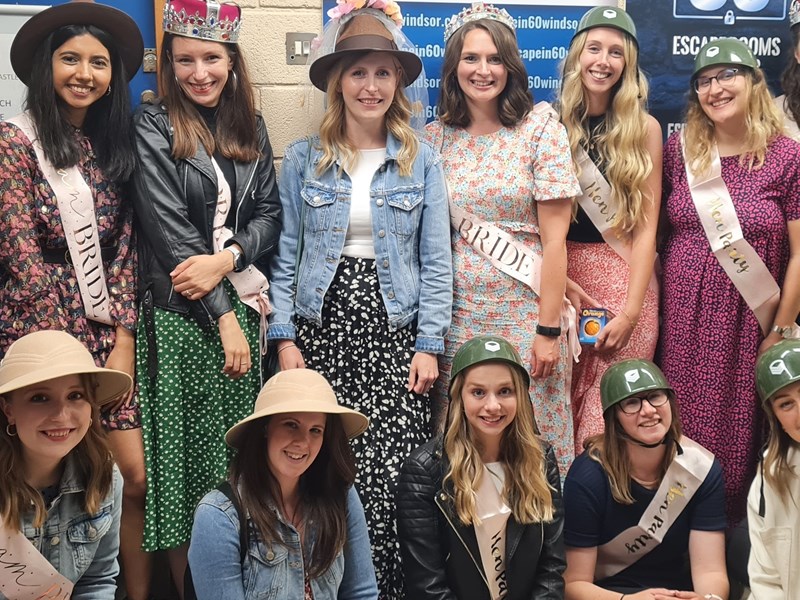 Hen / Stag parties
We welcome hen and stag parties and can run escape room games across more than one room simultaneously, wherever possible.  We will include a box of chocolates for the hen or stag.     (Just a quick word of advice – we do need you to be sober!)
You will find us...
Our escape rooms are based inside Windsor Leisure Centre, which has plenty of reasonably priced car parking immediately outside.   We are a seven-minute walk from Windsor town centre, and along the beautiful River Thames.   We are the same distance from the train stations too.


We had 2 birthday parties here today (one child's 8th and one adult). Booking was made very easy by Mike. The children's room was very engaging and adjusted to their age. The adult's room was very well thought and interesting. The clues/challenges were set just right. I can't say anything negative. Well done Escape in 60!

The Thorpes
Kathryn was extremely helpful when booking and was a lovely games master for the event. It was my daughter's 11th birthday and I wanted to do something different. The girls really enjoyed it - waiting outside I could hear the excitement and tension as the seconds were ticking down! It was declared the best birthday ever!!

Denise
Fantastic afternoon celebrating a family 50th birthday. Eleven family members using two different experiences. We had an amazing time and the grandchildren certainly had to use their brains!!!!! Would certainly do this again and will recommend it to all our friends. Thank you for looking after us so well and making our daughter's birthday extra special.

The Keates Family
Our family had a fabulous time pretending to be historians working at Windsor Castle at Escape in 60 Windsor at the Leisure Centre. There was a creative variety of puzzles incorporating history, geography and time, and the hidden chocolates for the birthday girl was a lovely touch. Great activity for teenagers- thanks so much!

Eleanor
Our 12 year old son had his birthday party there this weekend and they had a great time. Kathryn was great about making sure they started off on the right foot but where her genius really came in was knowing when to provide extra clues or hints to help them along. It was the right balance of trying to solve of a puzzle and also having fun. We would highly recommend it!

Seattle Souk
Booked Escape the Castle for my son's 13th birthday party - him and 5 friends. Thoroughly recommended - excellent communication by the team beforehand, clear instructions on the day, staff were great with the boys. They're already asking to go back and do the other escape room!

Gill H